d i s p l a y a r e a
 
:|: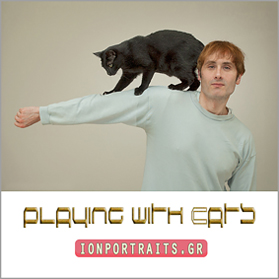 Playing with cats - ION
New music (improvisation).








n e w s a r e a
update 25 November 2018

"The works of man are covered by earth and oblivion;
whether we discover them or not, they are there."
Charalambos Bakirtzis
 
- IONPAINTINGS 2018 new
New works!
OPINiON
"Yes, ATHENS PRIDE! But PRIDE in what?
read more in English / inGreek

- Life Mementos - The Allegoric Sequence.
Twenty photographs in square format.

- Nuclear Medicine Abstracts.
A series of works inspired by science: (1) (2) (3) (4) (5) (6) (7)

- "Selfportrait without parrot 2013". 

- "Laline" finally opens her eyelids.

- Pamela questions ION. Old but new. 

- "Peter & Chiquia". A new portrait.   

- Justin Moorton's extended essay on
"Work on Portraits I". See HERE.


- EXHIBITIONS:
a. "PORTRETA", exhibition in Kiato, 2010-2011 (solo)
b."Portraits by ION" at Gazi, Athens, 2010 (solo)
c."I confess I invent dreams", Blanca Berlin Galeria, Madrid/Spain,
17Sept. - 07Nov. '09 (with Veru Iche')
d."Work on Portraits II", art.space.aleph, Athens, 2008 (solo)
e."DIA-ROES" arts festival at Syntagma Metro exhibition hall, 2007 (group)
f."DIA-ROES" arts festival at Syntagma Metro exhibition hall, 2006 (group)
g."Work on Portraits I", Eos gallery, Athens, 2006 (solo)
h. "Dixws Oria" ("No Limits")Aliko, October 2015 (3 works, painting)
i. 1. "SHOE STORIES", FOUAR [mitropoleos 72 st., Monastiraki/Athens],
8-12 Nov. >>see works<< (WORKS SOLD TO A GREEK COLLECTOR)
j. "GYNAIKA ISON", ALIKO (Ag. Dimitriou 16 st., Psyrri/Athens)
11-21 November 2015 >>see works<< new


- PUBLICATIONS:
a. Browne P. ; Bakhtin and the Contemporary Greek Photography:
Ion's 'Work on Portraits', 2006 ; ch21, Perspectives and Limits
of Dialogism in Mikhail Bakhtin ; Vol 2 ed. Pourkos M. ; Pub.
University of Crete 2008 ; ISBN 978-960-87434-6-5. See HERE.
b. artime magazine.

-  GARDEN OF EDEN:
a. B/W Portfolio.
b. cd artwork & Exultate alternative covers.
- ION interview: extract 1

- REPERTOIRE:
a. "Playground love". AIR's classic tune cover. (8mb .mp3 file)
b. "I'm a fool to want you" - rehearsal. Midi by Mel Webb.
c. "How Insensitive"- a 60's standard.
d. "We are the champions".
e. "Prelude".
f. "Mission Impossible" .
g. "Ram contest"(.wmv) - music composed & performed by ION.
h. "Hybrid Human" - an electroacoustic composition. front cover

*All content © 2000-2018 IonPortraits.gr®, Athens/Greece.

:|: